WW2 US Army, Navy & Paratrooper Jewellery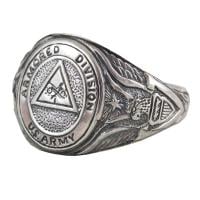 In this section you will find our range of American WW2 Army, Navy and Paratrooper silver rings, as well as our range of WW2 inspired cuff links.
Our Silver Rings are now finished in-house, with loads of stylish designs to choose from in sizes K to Z+4. We've also recently reduced our prices by up to £12 a ring, and most orders are dispatched within 48 hours.
We also have an expanding collection of WW2 inspired cuff links to choose from including 101st Airborne, Para Wings and many more.