Help

Welcome to our web tips page!
Here you'll find all the little ways to get the most out of our brand new website. If you have any more questions, please don't hesitate to drop us an email.

Selecting your currency
One of the biggest changes we've made to our website, is the introduction of a currency choice feature. Simply click on the currency icon in the top right, and select the currency of your choice. This will show you prices of items in your desired currency, as well as giving you the chance to pay in Pounds Sterling, Euros or US Dollars.

Getting the most out of the pictures
We've got loads of new and improved pictures on our new website to help you get what you're after. Use your cursor to hover over the picture to zoom in on the image. You can then move it around the picture to get a close up on the important bits.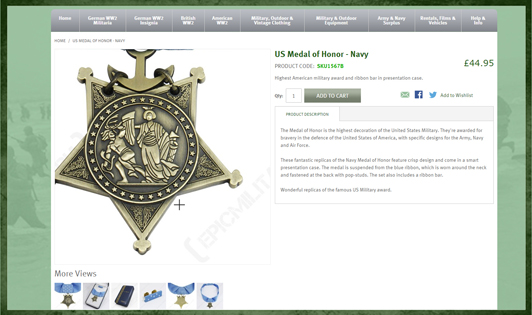 Changing your product selection view
Our website is set to show you a picture, name and price of a product when you're searching through our products, to help you quickly find what you're after. However, if you want a little bit of extra info when scrolling through, simply click the 'View as List' icon and you'll get a short introduction to each item. You can revert back to the grid format any time you like by clicking on the icon next to it.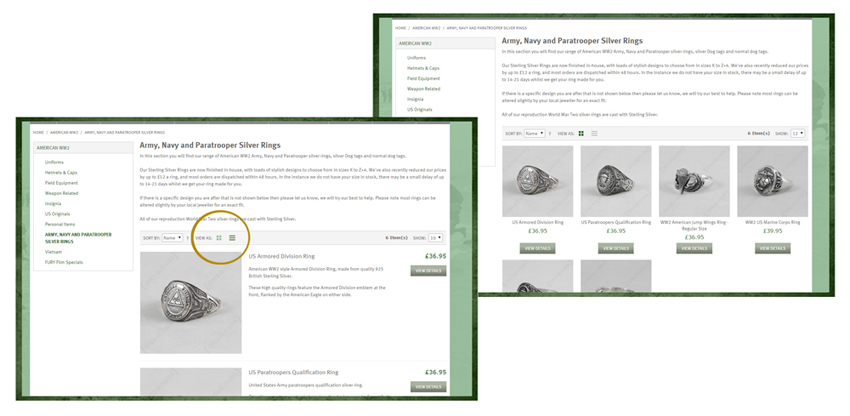 Managing your shopping cart
It's now easier than ever to keep your shopping cart up to date! Simple click on the cart button and a preview will pop up. On here you can remove items, change quantities and check your subtotal without leaving the page you're on. You can also head to the checkout from here once you're happy with your selection.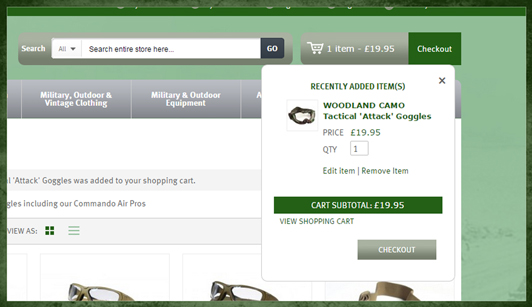 Adding products to your cart from search and category pages
You can now add products to your cart whilst looking through the product search or section you're already in. You can do this by hitting the 'Add to Cart' button below the product picture. You'll notice it sometimes says 'View Details' instead; this doesn't mean it's out of stock! It means that you need to pick a size, colour or other option before you can buy it. The button will take you into the product's full listing, where you can make sure you pick the right size or option. If you do use the add to cart button from the search or section screen, it will only add one product. If you want more than one of the item, then please use the Shopping Cart preview (demonstrated above) to make sure you get what you're after!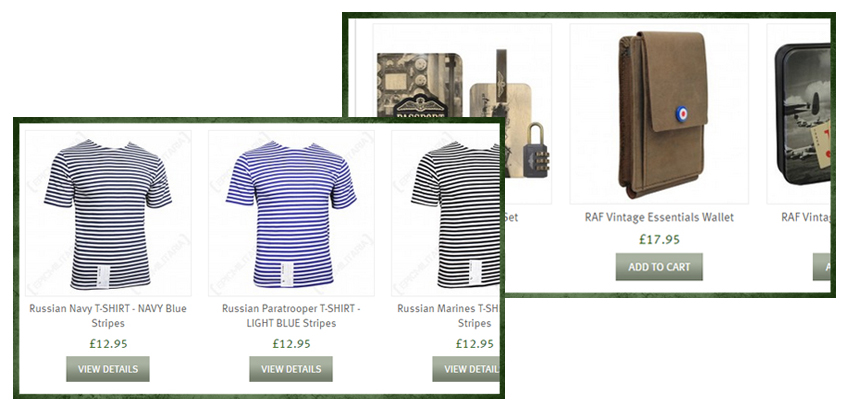 Using our improved search
One of the best features of our new website is the massively improved search function. It is a completely new program, which is extremely more likely to find exactly what you're looking for on our site. Also, whilst you're typing in your desired item, a drop down box will appear with some of the top products from your search.